Now I Have Everything But You (Cole)

3:32

It's The Same Thing Everywhere (Cole)

5:23

Tokyo Rose Sings The Blues (Cole/Bond/Carr)

6:54

Take Me Away (Carr)

5:34

So You're Gone (Carr)

5:26

Bossa Nova Eyes (Cole)

5:15

He Ws The Cat (Carr)

4:02

Pure Imagination (Bricusse/Newley)

4:19

I Got Friends (Carr)

5:20

Vanna Bonta (Cole)

5:40

DC Farewell (Cole)

3:47

I Love Lucy (Daniel/Adamson)

8:48
Legendary alto saxophonist Richie Cole first heard the Washington DC-based Uptown Vocal Jazz Quartet in 2012 and immediately declared them "My new discovery, the whole package." Cole, who has worked extensively with The Manhattan Transfer and been featured on their Grammy-winning albums "Vocalese," "Mecca for Moderns," and "Extensions", instantly recognized the vocal appeal of UVJQ and the unique songwriting and jazz arranging talents of their leader, Ginny Carr.
A lover of swingin' vocal harmonies and a prolific songwriter himself, Cole invited Carr to arrange his own songs for her group and collaborate with him on a recording featuring their collective original compositions. "Vocal Madness" is a rich compilation of original songs by both Richie Cole and Ginny Carr, with arrangements by Carr. It's a high-flying and highly original performance by the power ensemble of Uptown Vocal Jazz Quartet and their band, with guest Richie Cole on sax.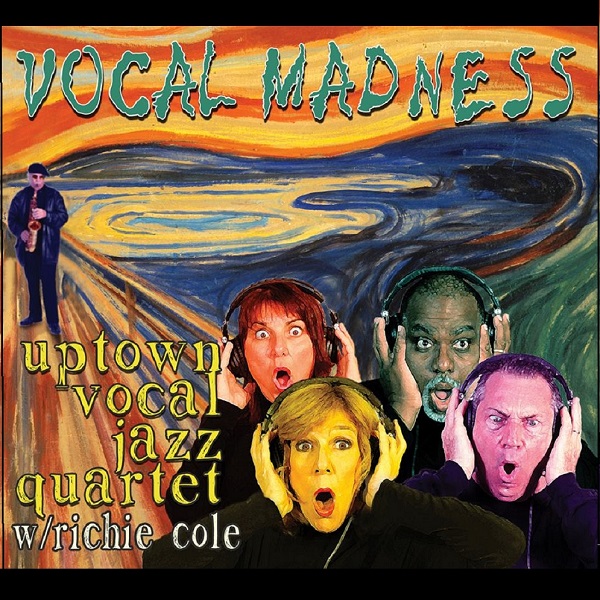 Vocal Madness
The album includes two special reprises: Carr's original salute to Eddie Jefferson ("He Was The Cat") featuring Eddie's own musical partner Richie Cole on the alto sax solo, and a new version of Cole's famously be-bopping "I Love Lucy" from his 1979 "Hollywood Madness" recording… this time with Carr's vocal arrangement adding the UVJQ signature.